#CORONAVIRUS2020 UPDATES & ANNOUNCEMENTS
Some trust in chariots and some in horses, but we trust in the name of the LORD our God.
Psalm 20:7
Join us for WORSHIP SERVICES
Available via Facebook Livestream & then UnityBaptist.us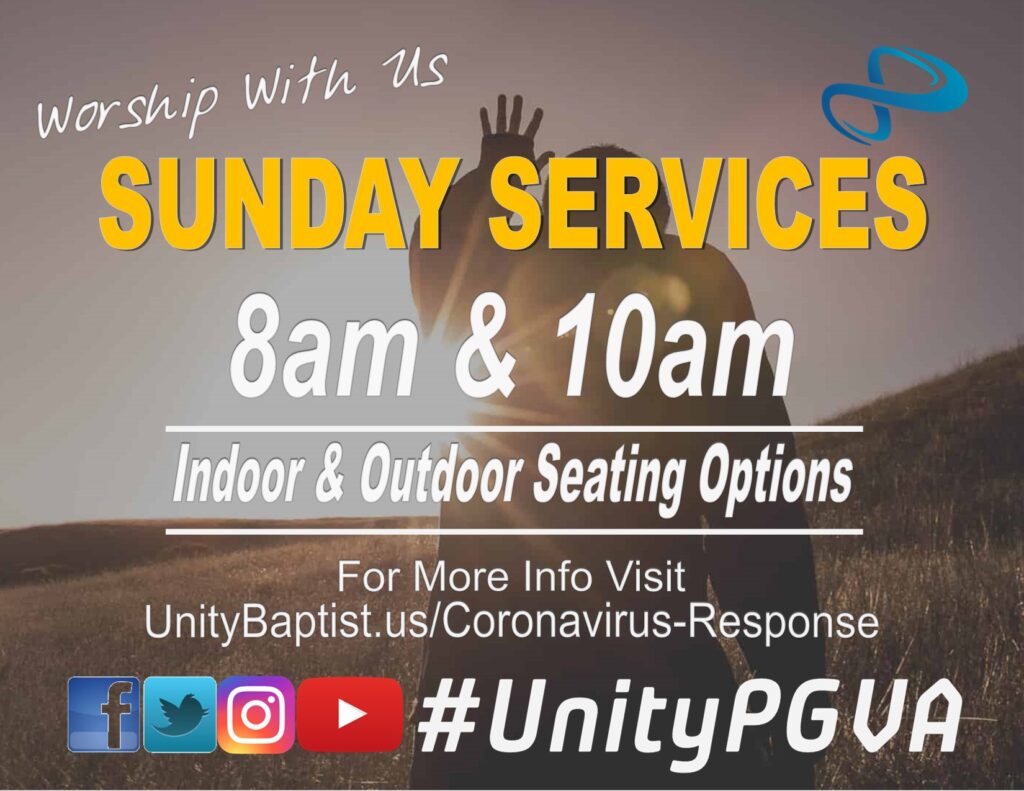 I was glad when they said to me, "Let us go to the house of the Lord!" – Psalm 122:1
PLEASE READ OUR RE-ENTRY STRATEGY BELOW
"OPERATION RE-ENTRY"
Sunday, June 7, 2020
We are so excited for the opportunity to come back together in personal worship of our Lord with you! A labor of great love is under way to ensure our ability to re-enter the church building at this time as safely as possible. We're not re-opening because we never closed! Before you arrive (I know, it's like the anticipation of a first date all over again…LOL) we are sharing what we see as a well-counseled, timely, responsible and Christ-Honoring strategy for re-entry.
First and foremost, we all must keep in mind the words of Jesus (Mark 12:30-31) when He said, "You shall love your neighbor as yourself." Regardless of personal opinions about government overreach, hoaxes, conspiracies, end of world scenarios, etc, many of our church family, friends and visitors are excited yet timid to attending in person worship services. Be mindful of Paul's words in Ephesians 4:32, "Be kind to one another, tenderhearted…". It will take all of us partnering together to "…set the believers an example in speech, in conduct, in love, in faith, in purity" (1 Timothy 4:12). Together, we will continue to lead our community directly to the Cross of Christ. Unity has been and is a pace setter in our community at many levels. We need to continue to serve this role. What we are doing is more than merely "coming back to church". By committing to re-entry and responsibly restarting certain aspects of Unity's Ministries we are fanning the flame of Missions, Gospel Outreach and Ministry to the Glory of the Kingdom of God in Prince George and Central Virginia. We're glad to be a part of this journey with you! It's been said "If it's worth doing, it needs to be done right … If it's the Church doing it, it NEEDS TO BE THE BEST!" As you read through our strategy for re-entry keep this Christ-Honoring, Gospel Driven, Kingdom building perspective at heart!
ATTENDANCE – Sick, exposed or uncomfortable
We long for the day we all can confidently and safely worship together in person. I long to give each of you a BIG HUG (I'm a hugger). However, we understand certain circumstances will keep some from joining in person. Have no fear, both Worship Services will continue to be Live Streamed via Facebook weekly. They will be available for replay at your convenience as well.
We ask that you worship with us from home via our Virtual Services if you:
In any way feel uncomfortable or unsafe in attending in person services.

Outdoor Seating Options will be available (weather pending).

Live Stream Facebook while in your vehicle in the Parking Lot. We'd love to see you and wave (safely from a distance) before and after service.

Are feeling sick or present any signs of sickness (fever, chills, aches, headaches, sore throat, persistent cough, difficulty breathing, upset stomach, etc.).
Have been diagnosed with Covid-19 and have not received confirmation of recovery.
Have been exposed within last fourteen (14) days to someone that has been diagnosed with COVID-19 or is considered Covid-Potential.
TIMES – Two (2) Worship Service Times
Services will begin at 8:00am and 10:00am.
Both weekly services will offer the same music, message and will be on Facebook Live.
DISTANCING – Six (6) Feet
Social Distancing of six (6) feet is REQUIRED for anyone not in your household unit.
Minors (under 18) are asked to stay with and sit with their family unit.

If you got into a Sunday morning family spat on the way to church, someone can stay outside and/or Livestream the Service. Mom and Dad will make that call.

We ask Parents to pre-teach their TEENS and CHILDREN on proper distancing with all, including peers, before arrival.

Together we will refrain from hugs, handshakes, cheek pinching, elbow bumps & chest bumps.

While Entering and Exiting Services we ask that you keep moving.

Visiting and Congregating is encouraged to be done in the church yard outside.
ENTRANCE – Three (3) entrances will be available on Sunday mornings.
A dedicated Seniors & Covid-Vulnerables (SCV) ONLY Entrance/Exit will be at the Front LEFT Double Doors (closest the Prayer Garden).

The SCV entrance will lead to a Dedicated Hallway and Reserved Seating.

Two (2) General Entrances/Exits will be designated at the Front RIGHT Double Doors (closest to Office) and the SECOND (2nd) SIDE DOOR on the Fire Lane.
The Fire Lane Entrance will grant direct access and will bypass any interior hallways.
SEATING – Five (5) seating options
General, Senior and Covid-Vulnerables (SCV), Outside, Pavilion and Indoor Overflow
General & SCV seating in the Multi-Purpose Room will have every other row

Rows will be alternated between services.

An Indoor Overflow Room will be established in the Dunn/Pastors Class.
OUTDOOR seating options (weather permitting) will consist of two (2) choices:

A First Availability Grass seating on EITHER SIDE of the building outside the Multi-Purpose Room will have chairs available or you may bring your own.

Windows will be opened and blinds up for a limited view of the stage area.

Air-Conditioning will be on to accommodate the opened windows.

The Pavilion will be available for those seeking shaded outdoor seating.

Sound will be projected to the Pavilion by way of an outdoor speaker.

When choosing your seat be mindful to leave adequate room for other families and move to the center when possible.
OFFERING & COMMUNION
Offerings can be given anytime to the Offering Plates located on the edge of the stage or in one (1) of three (3) wall mounted Communication Boxes located at the rear of the Multi-Purpose Room and in the Foyer.
Online Giving at us/Give is always available anytime.

Communion, when observed, will be conducted with prepackaged Communion Cups and will be made available before the Service begins.
CHILDREN AND NURSERY – We love our kids at Unity!
In an effort to focus our attention to a responsible reentry we will ONLY HAVE NURSERY DURING THE 10 AM SERVICE and WOL at 6 PM.

We hope to make these ministries available in the future.

Thanks for being patient and kind as parents do their best to worship together as a family.
Join us for Kids WOL in persons or on Zoom every Sunday at 6:00pm.

Contact the Church Office or Tammy Bobeau for Login Info.
SMALL GROUPS – Facebook Groups & ZOOM
We are extremely blessed and thankful to our Teachers that Sunday School for all ages will continue to meet through Facebook Groups and Zoom Calls.
Join a Class now if you are not a part of one.

For ZOOM (Kids & Youth) contact the Church Office

(804) 458-7440 or Office@UnityBaptist.us

Individual Classes/Groups may have periodic smaller gatherings in the future.

Re-Entry of Small Group plans are ever evolving.

As soon as possible, we will share when In-Person Classes will resume.
HANDS – Clean Them
Hand Sanitizer stations are located at each end of the two main hallways.
As always, soap is available in the restrooms throughout the facility.
MASKS – Wear Them
Our Southern Baptist Conservatives of Virginia leaders have contacted the Governor's Office for clarification on the current "Mask Mandate".

His office has clarified that the Governor used language of "encouraging this action" and not enforcement, specifically for churches.

In light of Mark 12:31 where Jesus says, "You shall love your neighbor as yourself." and in pursuit of being above reproach to setting a Christ-honoring example, we are encouraging all to think of their neighbor first.
While visiting Unity we ASK (not required) that all individuals over the age of ten (10) properly wear a protective face covering while inside the building.
The Governors Mandate does not include outdoor areas.

Masks will be available by the front entrance to each hallway for those that may need them while at Unity. Please, only use what is necessary for your visit.
BATHROOMS – Two (2) Person Limit
A two (2) person limit applies to the bathrooms for those outside your Family Unit.
A Single Stall Family Restroom is located behind the Stage/Baptistry.

Changing Tables are available in each restroom.
With Great Expectation,
Pastor Chris
—————————————————————————————————————————————————–
We always love worshipping and studying God's Word with you. However, if you are concerned about subsequent exposure and its impact to your health, stay home and worship with us through our online and mobile app offerings. We understand and look forward to this season passing and the time when you can physically join us again.
Covid Adjusted Church Meetings (Facebook & Instagram)
IN-PERSON WORSHIP – Sunday's 8a & 10a
Family Devotionals w/Pastor Chris – M-F 6AM
Adult Sunday School – 9:15AM-9:45AM Sunday's
Kids Word of Life Clubs – Sundays 6p in person (masks required) and via Zoom

Contact Church Office, Pastor Chris or a Kids Min Leader for Meeting ID

Youth Word of

Life

Clubs

– Sundays 6p in person (masks required)

Contact Pastor David with questions.

Adult Word of

Life – Sundays 6p in person (masks highly encouraged)
HELP SUPPORT FAMILIES IN NEED
Give Online: us/Give

IN THE COMMENTS SECTION WRITE "BENEVOLENCE"

Give in Person

Drop Off at Church Building

Sundays during services

Tuesday – Friday 9a – 2p
Thank You! Your gifts MAKE A DIFFERENCE to CONTINUE supporting great Missionaries, Ministries & Global Relief Efforts for the Kingdom of Christ at Unity and with our associates.
HOW CAN I STAY CONNECTED?
Stay connected with the Unity Family by gathering in small groups, if you are able.

JOIN THE NEWLY CREATED SUNDAY SCHOOL GROUPS via Facebook

for more Specific Up to Date Info.

Share & Meet Prayer Needs

Share & Meet Physical Needs, Deliveries, Etc.

Give & Receive Encouragement

CLICK THE LINK to Join the VIRTUAL CLASSROOM as your teacher hosts Sunday School ONLINE.

Email

Telephone

Office: 804-458-7440

Pastor Chris – call/text: 804-691-4437

Pastor David – call/text: 434-382-9388

Pastor David – call/text: 804-931-9891

Call / Text Pastor Chris (804-691-4437) for Info, Prayer or Live Video Counseling.

Live Video Counseling via ZOOM (must sign up for FREE account)

Access sermons from Facebook, UnityBaptist.us or the Unity Baptist Va app for Android or for iOS.
More information on the Coronavirus & Community Updates
Here are a few practical ideas & Ministry Opportunities:
Reach out to any elderly in your life and our Body. See if they need anything, and minimize their risk of exposure by shopping for them, picking up medications, etc. Their risk is the most dire.
If you know someone who is in the healthcare profession in our community and their hours begin to be increased due to this event, offer to watch their children.
Be at peace when this topic comes up. Perfect Love has cast out your fear.
Do your best not to ask for refunds from your kids's schools, activities, etc, should cancellations occur. They will be hurt enough by this.
Let your children, be children. It is not okay to burden them with a situation they cannot understand or control. Your goal as a parent is to not allow any anxiety you feel to overwhelm their hearts. Your goal is teach them you trust Jesus.
Look for and seize opportunities to share that we Christians do not fear. This is not foolishness or skepticism, we simply have another Hope.
WHAT PRECAUTION IS UNITY TAKING?
At Unity we have a great Cleaning Contractor that has been regularly disinfecting most surfaces weekly for several years. Due to recent events, this has been increased to disinfect all possible touchpoints (e.g., door handles, light switches, table tops, etc.) throughout the building. Unity is taking extra cleaning precautions at this time, including wiping down all common area touchpoints during this season of interruption with a certified disinfectant.
WHAT PRECAUTIONS CAN I TAKE?
Naturally, we love worshipping with you, however if you are feeling sick, running a fever or have been knowingly exposed, the best way to worship with the Unity Family is at home with our live stream at 10:00am on our Facebook Page.
You can access our sermons from Facebook, our website UnityBaptist.us or the Unity Baptist Va app for Android or for iOS.
HOW DO WE MAKE SENSE OF CORONAVIRUS?
We recommend you listen to this short 16 minute podcast from Desiring God Ministries on how to think Biblically and respond with compassion to our neighbors and the nations regarding this global health concern.
When fear begins to attack our hearts, we remember this: our great God is not caught off-guard nor surprised by anything. In the midst of these anxieties He is our Rock, our Fortress, and our Salvation (Psalm 27).
As Christians in America, we are blessed to live in great conveniences and comforts compared to others around the world. So when seasons arise for us to feel threatened and anxious, it becomes essential to remember a few things.
The Church has always existed in anxious times. But the Church always steps into the darkness of uncertainty to shine as lights. This is what we do — this is who we are.
Let me give 2 examples:
#1 – During the plague of AD 251 that swept through the Roman Empire decimating the population, people fled the cities, leaving the suffering and dying. Only the Christians stayed to minister to the infected. They did not think of themselves, but cared for the sick, ignoring their own well being, often at the cost of their lives.
#2 – During the Fall of 1793, when yellow fever swept through Philadelphia, hospitals were overwhelmed, and dead bodies rotted in homes. Again, it was the Church who served the sick when others isolated themselves for fear of catching the disease. May we be reminded that the Gospel we proclaim and joyfully sing about on Sunday mornings, also calls us to live sacrificially in the face of crisis.
Dearest Unity Family, the Coronavirus threat is not just a storm we must weather, Jesus is giving us new windows of opportunity to minister in a season of fear. In doing so we testify to the truth that this world is not our home, we are citizens of another. God created and set this world in order and is Sovereign over ALL, including debilitating micro-organisms. So let's show our friends, family, and co-workers how real this is!
WHAT ELSE SHOULD I KNOW?
The coronavirus is yet one more reminder that we live in a fallen world of sickness, sin, suffering, and death. Ultimately, none of us are immune to any of these things. But that's why the gospel is such good news. God has not left us alone in this world of sickness, sin, suffering, and death. He has come to us in the person of Jesus. The greatest news in all the world is that Jesus lived a life with no sin, died on a cross to pay the price for our sin, and rose from the grave in victory over sin and death. Now anyone anywhere who turns from their sin and trusts in Jesus will be forgiven of all their sin and restored to relationship with God forever. That means that through Jesus, we never have to fear sickness or death because we know we have eternal life with God.
If you do not know that you have eternal life with God, we urge you to put your faith in Jesus Christ. To talk with someone about this, please call the church office (804-458-7440), email Office@UnityBaptist.us, or message us on social media.
As we continue to monitor further developments, you can find updates here, on this page, and on our social media accounts.