*Sports Camp 2019 was a great year! Stay tuned for 2020*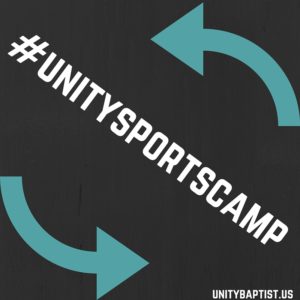 Sports Camp is a great opportunity for kids who have completed grades 1-6!!!!
Sports Camp will occur each day between 6-8:15 PM June 17-20.
Come out for 4 days during the Summer and learn about different sports and the love of Jesus Christ and what He did for us! Each day will feature a different sport run by coaches from the surrounding area and local schools. The sports include Basketball, Football, Soccer, and Baseball!
When you bring your child to Sports Camp please let the workers know if your child has any food or other allergies. Thank you!
REGISTER HERE
Follow us on Facebook, Twitter, or Instagram for updates on Sports Camp! Be sure to tag your pictures and comments with #unitysportscamp!
If you have a special situation please contact the Church Office (804) 458-7440 or office@unitybaptist.us