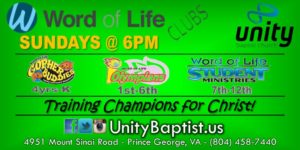 Word of Life Clubs is the core discipleship program we use for Unity Kids Ministry.
GOPHERS BUDDIES are our Pre-K & Kindergarten kids.
OLYMPIANS make up our 1st-6th Kids Ministry.
Check out our Student Ministry Website (7th-12th grade) for what WOL Club looks like for them.
Clubs meet EVERY Sunday during the school year.
Some of the Discipling Characteristics of WOL Clubs are:
Scripture Memory
Bible Lesson
Quiet Time
Christian Service
PARENTS, ask about the
to DO DEVOTIONS WITH YOUR KIDS!
Join in Having Fun learning about Jesus!